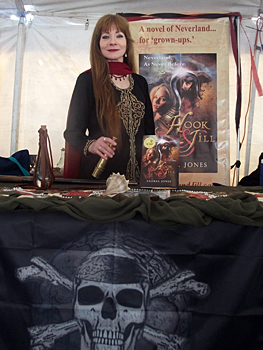 Plunder for the Cure Auction 2010
Avast, ye swabs!
Hook & Jill, the award-winning novel of Neverland for "grown-ups," be celebratin' International Talk Like a Pirate Day in grand style. We've struck an accord with the National MS Society, Greater Illinois Chapter. Author Andrea Jones, aka Capitana Red-Hand of Under the Black Flag, will donate an autographed copy to the cause.
How to Bid
Bids begin at $50. Send yer offers to info@ReginettaPress.com. Deadline midnight, September 19, 2010 — when the sun sets on this year's International Talk Like a Pirate Day.
Chicago area residents can attend Plunder for a Cure on Saturday night, September 18.
Now drink up some rum, and lay down yer doubloons.