Review: Hook & Jill by Andrea Jones (spoiler alert)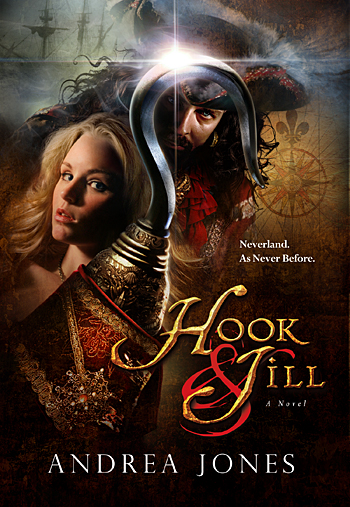 by Lark Neville's Lair
Monday, April 12, 2010
Hook & Jill
Andrea Jones
Reginetta Press, 2009
For many of us, routine days provide a numb existence. Alarm clocks ring. Coffee is downed. We head off to offices to do jobs that don't inspire our souls. We eek out whatever sleep we can and do it all again the next day. Childhood seems like such a time of possibility, of joy, of freedom. J. M. Barrie tapped into this longing for continual childhood with his novel Peter and Wendy.
With Hook & Jill, Andrea Jones offers her readers an intriguing continuation of the Neverland tale. Wendy Darling and her brothers, Michael and John, have settled into their life with Peter Pan and the Lost Boys. Wendy acts as a mother to the boys, protecting them from the dangers of the island which are thought to be animals, the local Indian population, and pirates. But Neverland isn't a world of simple blacks and whites. Good and evil aren't easily identified.
A change is brewing in Neverland. This is supposed to be a land where time holds no reckoning, but the children are beginning to grow up. This is a clear violation of Peter's rules, and only he knows the true consequence.
And another threat looms. Wendy discovers Captain Hook, the man of her stories and dreams, is real and has set his sights on her. He is a seductive, manipulative presence that soon overwhelms Wendy and Tinker Bell.
Wendy is not only drawn to Hook, she is troubled by Peter Pan's darker side. Peter is so unbending about his rules – kill all pirates, don't grow up – that he becomes a kind of child tyrant. Readers aren't likely to be on Peter Pan's side for long in this version of Neverland.
As a girl, Wendy dreamed of Peter and thought of him as her prince. Now she longs to grow up, to share love and adventure with a mate. Peter can't offer that future to her, but he won't let her go easily.
Wendy is the heart of Hook & Jill. Jones does well in giving Wendy a powerful character arc. Wendy grows up, changes her way of looking at her situation, claims control of her destiny, and eventually changes her name to become the Jill of the title. She is an intriguing heroine, and Hook is definitely her match. Their romantic dance is a pleasure to watch unfold.
This novel is also unabashedly filled with magic. Great respect is paid to the shamanistic ways of the Indians in the novel. Some of the most vivid and intriguing scenes in the novel focus on the Indians. They leave the reader desiring to see even more of their community.
In Neverland Wendy's stories come true. Her very words act as spells shaping reality. Her magical, creative nature is revealed throughout the story. In the end she uses her talents to save those she loves and create satisfying endings for them.
Readers are called to remember the magic that still surrounds us and to not lose our sense of adventure. Hook & Jill reminds us that we are the storytellers of our lives. It is up to us to write the person we want to be and create a tale worthy of believing in.